Láddjuvággi med utsikt västerut mot Kebnekaise och Duolbagorni.
Photo: Jan-Erik Nilsson/Länsstyrelsen

Vandrare på leden mellan Nikkaluokta och Kebnekaise.
Photo: Jan-Erik Nilsson/Länsstyrelsen

Sjön Láddjujávri med vy mot Kebnekaise och Duolbagorni.
Photo: Håkan Hjort/Johnér

Láddjuvággi österut mot Nikkaluokta.
Photo: Jan-Erik Nilsson/Länsstyrelsen
Kebnekaise Mountain Station-Nikkaluokta
Hiking
Description
The hike begins above the tree line, but fairly soon you will again see the verdant mountain birch forest. Take the opportunity to turn back now and then to admire the beauty of the Kebnekaise massif. After a kilometre from Kebnekaise mountain station you come to a suspension bridge over the Darfáljohka Canyon. Here there is a latrine and possible tent pitch. The stream's water is made turbid by stone particles and minerals from the glaciers in the Kebnekaise massif. Further down in the valley that glacial sludge forms the delta in the turquoise coloured Lake Láddjujávri.
After Darfáljohka you follow an easy downward slope to the mountain birch forest. The path is stony and can therefore feel a little difficult. Apart from King's Trail hikers you will meet many hikers intent on climbing to the highest summit of Kebnekaise.
After 8 kilometres you reach a place where the boat calls, the upper boat landing. From here you can shorten your hike by 6 km by taking the boat across Láddjujávri. From June until September the boat keeps to a timetable, and the trip takes 20 – 30 minutes. Where the boat stops at the lower boat landing there is a restaurant and accomodation (Enoks). From here you have breathtaking view across the glacial lake, with the Kebnekaise massif as the centrepiece. If you choose to hike instead of taking the boat, you take a fairly hilly and partially stony path that follows Lake Láddjujávri.
The remaining hike to Nikkaluokta is easy and on a broad path. With roughly 3 km remaining to Nikkaluokta you come to the suspension bridge over the stream Čievrrajohka, which is a good spot for a rest. There are good tent pitching sites practically everywhere along this stretch.
In Nikkaluokta there is accomodation, a restaurant an a small shop at [Nikkaluokta Sarri] (http://nikkaluokta.com/en/).
Duration: 5–6 hours
Activities And Facilities
Hiking
Surface

The trail is relatively easy to walk, with stonier sections between the Tarfala bridge and the lower boat landing.
Communications

Nikkaluokta lies about 70 km from Kiruna. There is a road all the way and the simplest way to get here is by bus, unless you are driving.

Hörvalls Trafik operates the bus route. For more information, see Nikkaluoktaexpressen website.
Contact
Email address
Länsstyrelsen Norrbotten
Organization logotype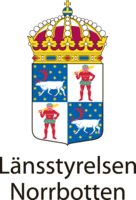 Questions & Answers
Ask a question to other Naturkartan users.