Photo: Andreas Garpebring

Photo: Ludmilla Wieslander

Photo: Ludmilla Wieslander
Nedre Sävarån
Nature reserve
Description
Canoeing through the greenery
Canoeing along the leafy river is a wonderful experience. Alder thickets and bird cherry hang above the riverbanks, and the scent of the cherry blossom fills the air. From the thicket, you can hear blackbirds and willow warblers. The bright flowers of the tall yellow iris really stand out. A beaver slides quietly down into the water from the bank. The river is easy to canoe along, and is also ideal for families with children. The final rapids before the sea give you butterflies in your stomach and a little extra speed as you head towards Skeppsvik.
The river and fishing
At one time, this area was sea and the mountain ridges were islands. Salmon and sea trout swam to the mouth of the river in Sävar village in the 16th century. In 1555, the fishermen who had fishing rights paid more than 700 kg of fish just in taxes. They must have been catching very large volumes of fish. As the land rose, the river became longer. Large sections were dammed for sawmills and mills, and large sections were cleared of boulders. As the fish were no longer able to migrate freely, combined with heavy fishing in the sea, there were almost no salmon left in the river by the start of the 20th century. Today, salmon and sea trout are migrating up along the river again.
Forest land
The forest landscape along the river still resembles an archipelago. Islands and mountain ridges rise up out of the wetlands that once were sea. Forests of pine and spruce now grow on the higher ridges. Many polypores, which break down trees, now thrive in the damp spruce forests. Woodpeckers such as the black woodpecker and the three-toed woodpecker find food here. And the crick-crick call of the black woodpecker fills the air.
The outlying wetlands
The outlying wetlands are wonderful areas for migrating birds, and here you can hear the complaining cry of the black-throated diver, the trumpeting of the whooper swans and cranes. The flat wetlands, which flood every year, are rich in sedge and were used for hay-making until the middle of the 20th century. The remains of wooden barns and left-over mowing machines can still be found here. The extremely rare greater bur-marigold, which looks like a green ox-eye daisy, grows on the wetlands by Bergsviken.
Activities And Facilities
Nature reserve
Accessibility
Near parking

Near Public Transport

Near toilet
Directions

The reserve is best experienced from the water, either from the north by canoeing from the E4 bridge, or in the south from the car park near Skeppsviks Herrgård.
Contact
Email address
Länsstyrelsen Västerbotten
Organization logotype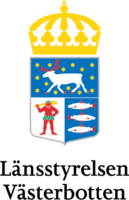 Questions & Answers
Ask a question to other Naturkartan users or to the responsible manager.