Photo: Emma Johansson

Photo: Emma Johansson

Photo: Emma Johansson

Photo: Emma Johansson

Hönsbär.
Photo: Länsstyrelsen Västerbotten

Photo: Emma Johansson
Klubben
Nature reserve
Description
Klubben is beautifully situated at the mouth of the Rickleån river. You can hear the Nettingforsen rapids here, which are unusual in more ways than one. Few rivers have rapids or waterfalls this close to their mouth. In addition, Nettingforsen rapids were not cleared to allow timber driving, which is unique along the coast of Norrland.
Nettingforsen
The Nettingforsen rapids have been named after the Swedish name for the river lamprey, an eel-like fish. Fishing for lampreys is an old tradition conducted by village elders along the Rickleån river. It is done using special pots at night during the late summer and autumn.
Klubben is a long headland that offers wonderful experiences of the Västerbotten coastline's harsh beauty. Here you will find untouched bare rocky ground, shingle areas and sandy beaches.
New land rising out of the sea
Along the coast of Norrland, new land is constantly rising out of the sea. This is a result of the ground springing back after having been pressed down by the most recent inland ice. In Västerbotten, the land is rising by 9 millimetres per year. As new land is created, plants migrate in and, after a couple of hundred years, the sea bed has been transformed into spruce forest. On Klubben, it is possible to study all the various stages of these natural land uplift forests, which are something of a speciality along coastline of the Bothnian Sea.
Activities And Facilities
Nature reserve
Accessibility
Near parking
Directions

The reserve is situated in Robertfors Municipality. Drive along the E4 from Umeå to Bygdeå. Six kilometres after Bygdeå, turn to the east. Follow the road along the southern side of the Rickleån river, out to the final rapids before the sea. You can park your car at Nettingforsen rapids.
Contact
Email address
Länsstyrelsen Västerbotten
Organization logotype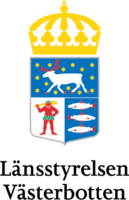 Questions & Answers
Ask a question to other Naturkartan users or to the responsible manager.