Abisko-Björkliden, the Navvy Trail and the Arctic Trail
Hiking
Description
The Navvy Trail is a 55 km hiking trail from Abisko Östra to Rombaksbotn fjord in Norway. The trail follows the supply road that was built at the end of the 19th century to transport construction material for the railway. The hike between Abisko and Björkliden is easy and passes through verdant birch forest and highly varied flora.
The trail starts just west of Abisko Turiststation on the south side of the E10 at a pedestrian tunnel that passes under the road. Follow the signposts for the Navvy Trail and cross over Abiskojåkka stream. The trail runs parallel to Lake Torneträsk, passing moorland birch forest rich in moss. Gradually the trail crosses wetter sections which are crossed on plankways. The trail runs through a pedestrian tunnel under the E10 and reaches the verdant birch forest on the slopes of Njullá. The north side of Njullá is steep and lots of snow gathers here. It is an avalanche risk area in winter, and therefore there is an avalanche warning system on exposed parts of the stretch. At several places along the trail you can see how avalanches and slides have affected the landscape and vegetation. The risk of avalanche and landslides is also one of the reasons why the railway tunnel through Njullá was built.
The trail eventually passes several recreational cabins, and you begin to approach Björkliden. A bridge leads across Gohpasjohka stream, which a small way upstream has excavated a long cave system. Immediately before the road from the E10 is crossed, the trail passes a bridge over Rakkásjohka stream. Closer to Lake Torneträsk, Rakkásjohka forms the famous waterfall "Silverfallet". After the bridge you pass Gammelgården, a former canteen and engineers' dwelling which now forms part of Björkliden tourist facility. Those wishing to continue their hike to Tornehamn carry on through the village, but should not pass the railway crossing – but instead continue northward on the Navvy Trail.
Duration: 2,5-3 hours
Activities And Facilities
Hiking
Surface

Very easy to hike surface, but wet in places, where there are a number of plankways. No major differences in elevation.
Communications
Contact
Email address
Länsstyrelsen Norrbotten
Organization logotype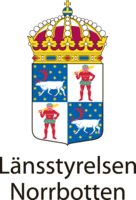 Questions & Answers
Ask a question to other Naturkartan users.