Photo: Håkan Hjort

Photo: Håkan Hjort
Jäckvik-Adolfström, The King's Trail
Hiking
Description
The hike passes through Pieljekaise National Park. Those who wish can divide the stretch into two sections.
The trail starts from a car park and passes through verdant mountain birch forest up the north slope of Pieljekaise Mountain. Just under 3 km later, the trail passes an unlocked stopover cabin. The trail is well marked and easy to hike, except when passing a small stream just after reaching the bare mountain. There is not much water in the stream, but the banks are rocky. You reach the highest point on the hike, just over 800 m above sea level, and then the trail leads into the national park. When the bare mountain has given way to mountain birch forest, the trail passes the Pieljekaise Cabins, where an overnight stop is possible. The key to the overnight room can be borrowed through Jäkkviks Livs, +46 (0)961-210 50, or the trading post in Adolfström. One room in the cabin is available for daytime visits.
The trail down to Lake Luvtávrre and the southern boundary of the National Park is well marked, but rocky and steep in places. The last stretch down to Adolfström is an easy hike through mountain birch forest and the last kilometres consist of a gravel road.
You can pitch a tent on the bare mountain, on the slope down to Lake Luvtávrre and at the bridge on that lake. In Adolfström there are different types of accommodation, see Arjeplog destination website.
Distances: Jäckvik-Pieljekaise Cabin 8 km (3–4 hours) Pieljekaise Cabin-Adolfström 14 km (4–6 hours).
Duration: 1 to 2 sections, in all 7–10 hours
Activities And Facilities
Hiking
Facts
Surface

Mostly easily hiked trail, except for the descent from the Pieljekaise Cabin to the southern national park boundary, where the trail is rocky and steep in places.
Communications

You get to Jäckvik and Adolfström by car or bus. During the season there are daily bus connections between Arjeplog and Jäckvik, and between Arjeplog and Adolfström. There is a car park at the start of the trail at Jäckvik and at the harbour in Adolfström.
Contact
Email address
Länsstyrelsen Norrbotten
Organization logotype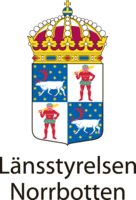 Questions & Answers
Ask a question to other Naturkartan users.