Photo: Håkan Hjort

M/S Langas.
Photo: STF

Photo: Tor Tuorda

Photo: Tor Tuorda
Saltoluokta-Sitojaure, The King's Trail
Hiking
Description
From Saltoluokta Mountain Station the trail rises steeply through pine forest. There are several parallel paths and paths that branch off. It is easy to take the wrong path, so pay attention to the trail markings, which consist of signposts and orange coloured markings on trees and stones. After 1 km, a path turns off towards Lake Bietsávrre to the right as you hike. After 500 m, another path turns off to the right, towards the ravine Áhusjgårsså. Keep left and follow the King's Trail signposts past these turnoffs and you will find your way.
When you reach the bare mountain the trail flattens off and leads across easily hiked moorland. The view towards Lulep Gierkav and Lake Langas is stunning. About halfway to the Sitojaure Cabins in the wide valley lies the overnight cabin Autsutjvagge. The hike ends with a gradual descent towards the Sitojaure Cabins, the last kilometres through birch forest.
You find tent pitches along the whole hiking stretch.
Duration: 6-8 hours
Activities And Facilities
Hiking
Surface

Very easy-to-hike trail stretch. The climb from Saltoluokta Mountain Station up to the bare mountain and the Ávtsusjvágge Valley, however, is fairly steep. Once up on the bare mountain you hike on relatively flat moorland and along esker ridges.
Communications
Contact
Email address
Länsstyrelsen Norrbotten
Organization logotype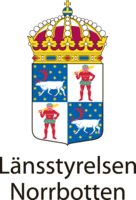 Questions & Answers
Ask a question to other Naturkartan users or to the responsible manager.