Lapporten (Čuonjávággi).
Photo: Sven Halling/Johnér

Abiskojåkka med Abiskoalperna i bakgrunden.
Photo: Jan-Erik Nilsson/Länsstyrelsen

Abiskojåkkas kanjon.
Photo: Ivar Palo/Länsstyrelsen
Abisko-Abiskojaure, The King's Trail and The Arctic Trail
Hiking
Description
The King's Trail is Sweden's oldest and best-known hiking trail. It stretches from Abisko to Hemavan.
The trail initially follows the impressive Abiskojåkka Canyon, which eventually gives way to a more calmly flowing stream through verdant mountain birch forest. For the entire stretch you have the so-called Abisko Alps in view. The trail is wide and easy to hike, and there are often large numbers of hikers here. Soon after the bridge across Nissunjohka there is a resting and tent pitching site. It is the only place in the national park where you are allowed to pitch a tent, except for Abisko Turiststation and at the Abiskojaure Cabins.
When you have just over 3 km to go to the Abiskojaure Cabins, the stream runs into Lake Ábeskojávri. To get to the Abiskojaure Cabins, you leave the King's Trail and cross the stream Kamajåkka via a suspension bridge. Those carrying a tent but who do not wish to pitch it at the cabins should continue a few kilometres on the King's Trail to leave the national park. The whole hiking stretch is in Abisko National Park.
Duration: 4-5 hours
Activities And Facilities
Hiking
Surface

Easy-to-walk path with occasional plankways.
Communications
Contact
Email address
Länsstyrelsen Norrbotten
Organization logotype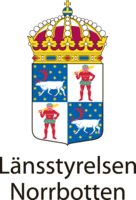 Questions & Answers
Ask a question to other Naturkartan users or to the responsible manager.