Storforsen
Nature reserve
Description
Welcome to beautiful, majestic Storforsen Rapids! The nature reserve is one of the most visited in Norrbotten County. Here you can experience close up one of the biggest rapids in the Nordic countries. The area is 1.2 square kilometres in size. Snowmobiling is banned in the entire area, nor may you light a fire or pitch a tent except at prepared sites, or cycle, all ride a horse without the permission of the County Administrative Board.
Activities And Facilities
Nature reserve
Facts

Kommun: Älvsbyn

Bildat år: 1971, utvidgades 1997

Storlek: 1,2 kvadratkilometer

Förvaltare: Länsstyrelsen

Skyddsform: Naturreservat, Natura 2000

Övrigt: Tillgänglighetsanpassad led, vindskydd och eldstad finns i området.
Parking

There is a large car park.
Communications

Storforsen lies just under 40 km north of Älvsbyn and about 6 kilometres from the community of Vidsel, at a turning on to road 374 (signposted). Hotell Storforsen is just outside the area, on road 374, and there is a footbridge into the reserve from the hotel area.
Directions

Storforsen ligger knappt fyra mil norr om Älvsbyn och cirka 6 kilometer från Vidsel, vid en avtagsväg från väg 374. Det finns en stor parkeringsplats. För rörelsehindrade med särskilt parkeringstillstånd finns parkeringsplatser nedanför backen, närmare forsen. Du måste passera en vägbom som är öppen när personal finns i reservatet.
Regulations

Alla föreskrifter finns i reservatsbeslutet. Det är tillåtet att:

vandra
jaga i enlighet med gällande lagar

Det inte är tillåtet att:

framföra motordrivet fordon annat än på därför särskilt anlagda vägar
göra upp eld eller tälta, annat än på iordningställda platser
rida inom reservatet utan länsstyrelsens tillstånd
cykla i terräng
köra snöskoter
skada växt- och djurliv

Tänk på allemansrätten och var rädd om naturen!
Contact
Email address
Länsstyrelsen Norrbotten
Organization logotype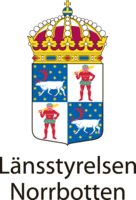 Questions & Answers
Ask a question to other Naturkartan users.