Gårdliden
Nature reserve
Description
In Gårdliden there is a mixture of pine forest, spruce forest, lakes and mires. Lidtjärnen is a good fishing water. The area is 1.2 square kilometres in size.
Activities And Facilities
Nature reserve
Facts

Kommun: Älvsbyn

Bildat år: 2010

Storlek: 1,2 kvadratkilometer

Förvaltare: Länsstyrelsen

Skyddsform: Naturreservat
Communications

Gårdliden lies north of Storsund and Lake Gammelträsket, about 14 kilometres southwest of Älvsbyn. The reserve can be reached from several directions. From road 94 west of Älvsbyn turn southwards in Vistträsk towards Södra Vistträsk. Keep heading south and pass Storbacka where you take a southward turn towards Storsund. The third turning to the west (the logging road Rackeltjärnsvägen) continues to the reserve. The road is quite overgrown (august 2021).
Directions

Gårdliden ligger norr om Storsund och sjön Gammelträsket, cirka 14 kilometer sydväst om Älvsbyn. Reservatet går att nå från flera håll. Från väg 94 väster om Älvsbyn sväng söderut i Vistträsk mot Södra Vistträsk. Håll mot söder och passera Storbacka där du tar söder mot Storsund. Tredje avtagsvägen åt väster (skogsbilväg Rackeltjärnsvägen) når reservatet. En omarkerad stig från Ormskatavägen leder till Lidtjärnen i reservatets västra del (gammal skylt "Lidtjärn 3" vid stigens start).
Regulations

Alla föreskrifter finns i reservatsbeslutet. Det är tillåtet att:

vandra
tälta
göra upp eld, kom ihåg att ta med egen ved!
plocka bär och matsvamp
köra snöskoter på väl snötäckt mark
fiska och jaga i enlighet med gällande lagar

Det är inte tillåtet att skada växt- och djurliv. Tänk på allemansrätten och var rädd om naturen!
Contact
Email address
Länsstyrelsen Norrbotten
Organization logotype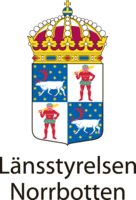 Questions & Answers
Ask a question to other Naturkartan users.