Gösslunda-Tingstad trail
Hiking
Description
The Gösslunda-Tingstad trail is about 3.5 km long, marked by stone cairns, which starts from the parking lot opposite the entrance to Gösslunda village and continues southwards.
The trail runs alongside the Gösslunda nature reserve.
After passing a small footbridge where the water usually rushes out after the snow melts, you are on a dry ridge. Here you will find the remains of a so-called stone strand that probably dates back to the early Iron Age.
At Tingstad chips you can continue on the trail south towards Penåsa.
Activities And Facilities
Hiking
Accessibility
Near parking

Near toilet
Facts

Graveyards and cairns

A prehistoric burial ground with some 70 visible stones and the remains of two large cairns is located on an old seawall formed after the Ice Age. The Tingstad chippings, two pieces of carved limestone, more than three metres high, rise here.

The chippings are of unknown age but are mentioned in a document from 1393. In the once open, vegetation-free landscape, the chippings probably served as landmarks. Three roads converged here and it was probably a meeting place where common matters were decided. There are also theories that their 90-degree angle to each other may have functioned as a sundial, to mark the beginning and end of the thing. Many stories and tales exist from this fabled place. There is a spring in the grove next door, although it can be a little difficult to find.
Contact
Address
0485-474 92
Email address
Matheus Tholin
Organization logotype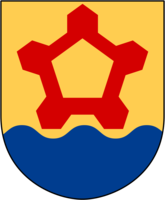 Questions & Answers
Ask a question to other Naturkartan users.