La Mòss, Mysen
Cafe/Restaurant
County:

Viken
6287.96 km away from you
Description
The restaurant
In the middle of the small town of Mysen, known for its quiet surroundings and woodlands, you will find La Moss. A little gem of a restaurant. Mysen is surrounded by small rivers and lots of oat and corn fields. Green and fresh in summer and golden as gold in autumn.
Love has been the biggest building block behind the idea of La Mòss. When you enter the door, you are met by a unique atmosphere.
You will be surrounded by pleasant uncluttered interiors. Here you can just shrug your shoulders and enjoy the evening with your girlfriend, good friends or business associates.
People's Gourmet!
La Mòss is owned and operated by Alfonso Costabile. Alfonso comes from a small village in the south of Italy. In Sarno, food and family are in focus. Mother in the kitchen and father who makes his own wine and olive oil. The small village is half an hour from the Amalfi Coast, with a warm, delicious climate and outgoing and warm people.
La Moss is built on a foundation consisting of "passion" for food and a desire to provide a dining experience to the people. The menu served changes every week and according to the season. At La Moss, they set high standards for the raw materials they use raw materials from the local market and farms located a short distance away are often chosen if possible. When you come to La Moss, you can choose between well-thought-out dishes on the menu, you can choose one dish or a full evening with 5 dishes. On the menu you will always find a choice of starters, main courses, mid-course and dessert.
Along with good food, they also serve good drinks, with all rights.
The restaurant has its own wine cellar with a good selection of wines that can be enjoyed with each course.
At La Mòss you should be able to enjoy food and wine in harmony.
Company premises
If you are organizing a party, you can have "Himmelsalen" on the 2nd floor as your private party room for the day, or if you wish to hire the entire restaurant. Alfonso and his crew are genuinely interested in food and that their guests should have a good and wonderful experience when they leave. La Mòss places great emphasis on good ingredients and well-thought-out dishes for you and your company. And they vary the menu according to the seasons. La Moss is very suitable for meetings and parties for up to 30-40 people.
Get in touch for further information.
Meetingroom
2. floor at La Moss is also suitable for your meeting. They have canvas and displays. And you have your private cubicle on the 2nd floor.

Catering
At La Mòss, delicious folk gourmet dishes are prepared for all occasions. They also deliver food to your parties if you need it - Weddings, parties and whatever you have to arrange.
Activities And Facilities
Cafe/Restaurant
Contact
Email address
Kontakta Unionsleden
Organization logotype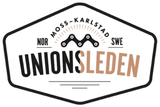 Questions & Answers
Ask a question to other Naturkartan users.