Hälsans stig - Tibro
Hiking
Description
Välkommen till Hälsans stig i Tibro!
Hälsans stig startar och slutar vid stadsparksscenen, som fått sin unika form av elever på Tibro Hantverksakademi. Scenens utformning med dess marmoreringar knyter an till Tibros kulturarv, traditionen att tillverka möbler och inredning som inleddes på 1800-talet och som fortfarande lever och utvecklas. I Tibro museum, som ligger alldeles bredvid stadsparken, beskrivs möbel- och inredningstraditionen i en permanent utställning. Stadsparksdammen:Vid starten finns också stadsparksdammen, som restaurerades 2018-2019, som en del i Tibros gestaltningsprogram och en statligt finansierad naturvårdssatsning. En bärande tanke med restaureringen var att knyta samman dammen med Tibrobäcken för att få till stånd en vackrare, mer naturlik miljö och förbättra förutsättningarna för ett livskraftigt fiskbestånd i bäcken.Stenbron:Väl framme vid Tidanån så kan du få en glimt av den gamla stenbron, som uppfördes 1917 och som renoverades lagom till brons 100-årsjubileum 2017. Vid stenbron, där det tidigare låg en gammal kvarn, finns en grill- och fikaplats.Strandängar och målade bänkar:När du vandrar utmed Tidanån kommer du nära en värdefull naturmiljö med betade strandängar. Här möts du även av tre målade sittbänkar, som fått sin kreativa utformning av elever på Tibro Hantverksakademi.Upptäck fler vandringsleder:Det finns fler vandringsleder att upptäcka i Tibro kommun, bland dem Å-leden, Segerstorpsleden och Rankåsleden. Du kan läsa mer om Tibros vandringsleder på visittibro.se.
Activities And Facilities
Walking
Contact
Address
Det är kommunen som skapar och sköter om Hälsans stig. Men det är Riksförbundet HjärtLung som står bakom konceptet. Mer information, besök hjart-lung.se
Email address
Riksförbundet HjärtLung
Organization logotype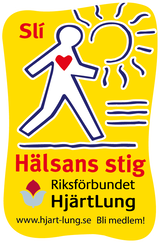 Questions & Answers
Ask a question to other Naturkartan users.