Photo: Emma Johansson

Photo: Lars Peder Danielsson
Stockholmsgata
Nature reserve
Description
The name Stockholmsgata is said to refer to the narrow streets in Stockholm's Old Town district. However, no city street can give the same remarkable experience as walking through the deep, long canyon that cuts through the forest at the boundary between Västerbotten and Västernorrland.
Creation of the canyon
Stockholmsgata is a magnificent canyon formation, 50 metres deep and 1.5 kilometres long. It was formed 9,400 years ago when a mighty glacial river plunged down into the valley and gouged out a fault in the bedrock. This course of events was probably initiated by an earthquake. A tour through the canyon is a breathtaking experience. The vertical walls are up to 40 metres in height.
Caves and giant's kettles
In addition to the towering canyon, there are other exciting formations in the reserve. North of Uvtjärn there are several talus caves of varying sizes. A couple of the larger ones have small brooks flowing through them.
The next cave area is located in the middle of the canyon. This is a scree slope with a cavern in which ice remains right up until June. Narrow paths lead on to small chambers on five levels. The cave has a total length of around 70 metres. In the northern part of the canyon there are more talus caves. There you can follow narrow paths to get as much as 10 metres below ground.
Just east of the canyon's northern end, there is a four-metre-deep giant's kettle. This was formed when flowing water forced its way down into the rock. The bottom of the giant's kettle has a diameter of just over 5 metres.
Rare lichens
Rare species such as brownish monk's-hood lichen and angel's hair can be found in the damp canyon bottom. The Siberian jay is common in the area. The three-toed woodpecker, the capercaillie and, in good rodent years, the kestrel and Tengmalm's owl can also be found here. With a little luck, you might see a golden eagle or the tracks of a bear or lynx.
Activities And Facilities
Nature reserve
Accessibility
Near parking

Near toilet
Directions

The reserve is signposted from Åselevägen (Route 557) at Häggsjömon heading towards Lakasjö. The road splits after around 5 km. You can choose to follow the road towards Lakasjö and then walk 3 km along the marked trail. If you opt for the other road, turn left towards Hedlunda over Storberget. You can then drive all the way to the boundary of the reserve, where you will find a wind shelter and outside toilets.
Contact
Email address
Länsstyrelsen Västerbotten
Organization logotype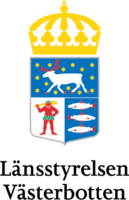 Questions & Answers
Ask a question to other Naturkartan users or to the responsible manager.