Photo: Emelie Runfeldt

Strömstare.
Photo: Gillis Aronsson
Ulva Kvarn
Recreation area
Description
Vid Ulva kvarn kastar sig Fyrisån utför ett litet fall och nedanför fallet forsar den med hög fart fram över stenarna. Vintertid kan du hålla utkik efter den lilla strömstaren som brukar stå och niga på en sten i forsen.
Redan på 1300 talet omnämns kvarnstället vid Ulva. Platsen var ett vadställe för folk och fä, bland annat kunde man se vargen, ulven, ta sig över vattnet. Nuvarande kvarnhuset byggdes i slutet på 1750-talet och drevs som kvarn fram till 1963. 1998 brann byggnaden och fick därefter rustas och renoveras för att återinvigas 1999. Sedan 1984 är Ulva Kvarn ett hantverkscentrum med små butiker och café.
På västra sidan nedanför fallet hittar du smultronstället, som är en mysig picknickplats med eldstad och stora grönytor.
Ulva kvarn är en bra rastplats för den som kommer paddlande längs kanotleden Fyrisån. Här får man lyfta upp kanoten i dammen ovanför fallet och transportera den en bit på land. Vid Fyrishov stugby och camping kan du sommartid hyra en kanot och paddla uppströms till Ulva kvarn. Turen är drygt 5 km lång, enkel väg, och tar ca två timmar.
Service: Stor parkering på västra sidan av ån, picknickbord, eldstad, toalett, hantverksby, café, restaurang.
Förvaltare: Uppsala kommun
Activities And Facilities
Recreation area
Accessibility
Near parking

Near Public Transport

Near toilet

Stroller accessible

Wheelchair accessible
Communications

Du kan ta regionbussen till hållplatsen Ulva kvarn. Bussnummer och tidtabell hittar du på www.ul.se.
Directions

Ulva Kvarn ligger längs Fyrisån, 8 km norr om Uppsala.

Med bil: Från Gysingevägen (väg 272), sväng av österut mot Ulva Kvarn ca 6 km norr om Uppslas stadsgräns. Efter ca 2 km kommer du fram till parkeringen som ligger på höger sida.
Contact
Email address
Upplandsstiftelsen
Organization logotype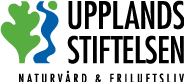 Questions & Answers
Ask a question to other Naturkartan users.