Slåtter i Toran
Toran, slåtteräng
Valuable nature
Description
I Toran finns öppna hagmarksområden och sluten ekskog. Några av ekarna är mycket, mycket gamla.
En del av Toran har restaurerats till löväng. Där har träden kapats för att släppa in mer ljus till örterna på marken. På sommaren slås ängen och sedan släpps får eller kor ut för att beta. Området avgränsas av vackra gärdesgårdar.
Activities And Facilities
Valuable nature
Contact
Email address
Upplandsstiftelsen
Organization logotype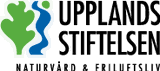 Questions & Answers
Ask a question to other Naturkartan users.