Kulturstigen, Österbybruk, 6 km TGS
Hiking
Description
Kulturstigen är en 6 km lång slinga i direkt anslutning till Österbybruk.
Stigen går på dammsbröst förbi dammar som anlades under 1500- och 1600-talet. Dammsbröst är en vall av jord, sten och slagg för att hålla vattnet kvar i dammen. Stigen passerar många kulturhistoriskt intressanta platser med spår från tidig järnhantering i bygden. De dammar som skapades gav den vattenkraft som behövdes för bearbetningen av Dannemoramalmen till världsberömt stångjärn.
Lämpliga startpunkter är Simbadets Camping, hembygdsgården eller badhuset. Vid alla platser finns parkering.
Activities And Facilities
Hiking

Circular trail
Contact
Email address
Upplandsstiftelsen
Organization logotype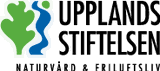 Questions & Answers
Ask a question to other Naturkartan users.