Serpentinvägen ner från Akalla

Grusvägen mot Säby gård

Handikapparkeringen vid Säby gård

Vägen norr om Säby gård

Toaletten vid Säby gård

Inne på den anpassade toaletten

Utsikten från rastplatsen

Rastplatsen vid Säby gård
Sydvästra Järvafältet
Hiking
Trail details
Length

4.0 km

Difficulty

Blue - medium
Description
Järvafältet erbjuder inte enbart en underbar vacker natur, området har dessutom en intressant historia med gamla fornlämningar som är upp till 1000 år gamla. Området är väldigt lättåkt med både manuell och med elrullstol, vilket gör det hela till en mycket trevlig utflykt.
Activities And Facilities
Hiking
Accessibility
Near parking

Near Public Transport

Near toilet

Stroller accessible

Wheelchair accessible
Tested with a wheelchair

Bommen bakom Hägerstalund

Allén bakom Hägerstalund

Parkeringen vid Hägerstalund

Den anpassade toaletten utmed grusvägen
Surface
Hills

Kommer man från Hägerstalund så finns det en uppförsbacke 1,9 km före Säby gård, ca 100 meter lång. Backen har en lutning på ca 8 % i början.
Parking

Parkering finns vid Hägerstalunds värdshus och Säby gård.
Communications

Tunnelbanans blåa linje till Akalla eller buss till Säby gård. Se SL:s hemsida för tider och busslinje.
Directions

Tunnelbanans blåa linje till Akalla, sedan går man upp mot Akalla torg, sedan Sibeliusgången ner mot Hansta och Hägerstalund. Vid Hägerstalund tar man vänster och följer skyltarna mot Säby gård. Kommer man från Säby gård följer man skyltarna mot Hägerstalund.
Contact
Email address
Anders Andrae
Organization logotype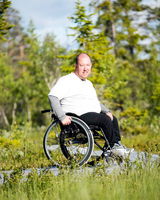 Questions & Answers
Ask a question to other Naturkartan users.