Ullavi klint naturreservat
Nature reserve
Description
Här, i Kilsbergens östvända branter, ligger naturreservatet Ullavi klint. Ullavi klint är namnet på en brant bergstopp i södra delen av reservatet. Här på krönet ligger också resterna av en fornborg. Reservatet bjuder på hänförande utsikt, fantasieggande forntidshistoria och ett spännande växt- och djurliv.
Activities And Facilities
Nature reserve
Accessibility
Near parking
Facts

Kommun: Örebro

Bildat år: 2015

Areal: 81,4 ha

Markägare: Naturvårdsverket samt enskilda

Förvaltare: Länsstyrelsen

Reservatsbildare: Länsstyrelsen
Directions

Naturreservatet Ullavi klint ligger 17 kilometer nordväst om Örebro. Från Örebro, kör väg 744 till Kil, tag där in på väg 748 och kör till Klockhammar. Parkering finns på vänster sida om vägen i slutet på byn. Promenera sista biten fram till reservatet längs vägen och en bit in på Orienterarvägen.
Regulations

I naturreservatet är det förbjudet att:

bortföra eller skada döda träd eller träddelar

göra upp eld
Contact
Address
Kontakta oss om du har frågor om Örebros friluftsliv.
Tel: 019-211000
Email address
Servicecenter
Organization logotype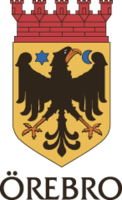 Questions & Answers
Ask a question to other Naturkartan users.