Torbjörn Arvidson

Torbjörn Arvidson

Torbjörn Arvidson

Torbjörn Arvidson
Blänkabacken naturreservat
Nature reserve
Description
Området innehåller rika lövskogspartier med riktigt grova gamla träd och ljusa tallbackar med utsikt över Örebro. Stora insatser har under 2000-talet gjorts för att ta bort granen från området och istället gynna lövträden.
Activities And Facilities
Nature reserve
Accessibility
Near parking

Near Public Transport
Directions

Blänkabacken ligger sydost om Örebro, på väg ut mot Ekeby-Almby. Parkering finns längs väg 207 (Hjälmarvägen). Med buss tar du dig till hållplatsen som heter Hjälmarsberg. Därifrån går du cirka 200 meter för att komma till samma parkering och entré.
Contact
Address
Kontakta oss om du har frågor om Örebros friluftsliv.
Tel: 019-211000
Email address
Servicecenter
Organization logotype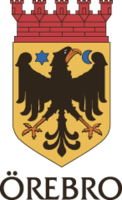 Questions & Answers
Ask a question to other Naturkartan users or to the responsible manager.