Silene acaulis.
Photo: Göran Wallin
Vaisaluokta Mountain Cabin-Kutjaure, The Arctic Trail
Hiking
Description
The trail follows a rocky route southwards for a few kilometres along the shore of Lake Akkajaure. The trail passes the Sámi settlement of Vájsáluokta. After the church goahte huts, walk over the suspension bridge across Guossjájåhkå stream. After the bridge, the Arctic Trail turns steeply upwards alongside the stream. About 1 km after the bridge, you reach the bare mountain. Then behind, you a beautiful view of Lake Akkajaure and the mountains in the north. After climbing for about 300 m, the trail levels out. The trail continues in an easily-hiked valley across grass pastures, brush moors and rock fields. The u-shaped valley lies on high ground and snow may remain in the summer. Along lakes Guossjájávrre and Gårssåjávrre there are plankways across moist parts. Just before Lake Gårssåjávrre there is a stopover cabin where it may be suitable to take a lunch break. The hike continues across easy mounting more with a view of mountain summits in Sarek. After passing to bridges, there is a descent to Kutjaure cabin and birch forest.
There are good tent pitches above the tree line towards Vájsáluokta and at the bridges before Kutjaure cabin.
Duration: 6-8 hours
Activities And Facilities
Hiking
Surface

Mostly easily-hiked surface, although with occasional rocky areas. A number of plankways along the lakes in the valley.
Communications
Contact
Email address
Länsstyrelsen Norrbotten
Organization logotype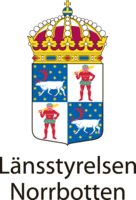 Questions & Answers
Ask a question to other Naturkartan users or to the responsible manager.