Photo: Henrik Micael Kuhmunen/Laponiatjuottjudus

Photo: Henrik Micael Kuhmunen/Laponiatjuottjudus
Teusajaure-Vakkotavare, The King's Trail
Hiking
Description
This stretch is a relatively easy hike, but with considerable differences in elevation. The trail passes through Stora Sjöfallet/Stuor Muorkke National Park, and in clear weather gives you a good view of the jagged summits of Sarek and Stora Sjöfallet.
To get across Lake Dievssajávri (Teusajaure) you can pay the fare for a passage on a scheduled motorboat trip to the cabin warden. There are also rowing boats to borrow. Remember if you use these boats that you must always leave a boat on each side of the crossing. This may mean that you must row across three times. The rowing boats are the responsibility of Laponiatjuottjudus.
After the 1 kilometre boat crossing, the trail continues up a long, gradual climb through mountain birch forest. Eventually, this gives way to brush and grass-covered moors and the hike is easy. From the highest point of the trail in good conditions you can identify classic summits such as Sárektjåkkå and Áhkká. The last part down to Vakkotavare and the big road is steep and winding.
You find tent pitches above Vakkotavare, above the treeline where it flattens off. Also at Råssejåhkå stream and just south of Lake Dievssajávri there are suitable places to make camp.
Duration: 5-6 hours
Activities And Facilities
Hiking
Surface

Easy hiking across grass and brush moors, except for the climb from Dievssajávri and at Vakkotavare, where the trail winds steeply.
Communications
Contact
Email address
Länsstyrelsen Norrbotten
Organization logotype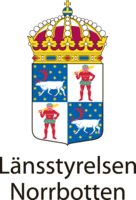 Questions & Answers
Ask a question to other Naturkartan users or to the responsible manager.