The summit.
Photo: Jan-Erik Nilsson/Länsstyrelsen

The safety cabin.
Photo: STF

Photo: Göran Wallin

Under bygget av stentrappan längs Västra leden.
Photo: Jan-Erik Nilsson/Länsstyrelsen
West Trail to the summit of Kebnekaise
Hiking
Description
The West Trail starts at Kebnekaise Mountain Station. It first follows a path sloping gently upwards. The path splits in some places. Check the map and surroundings so you do not end up wrong.
After about 1.5 km you will reach the stream Jökelbäcken. If you feel unsure of wading across, there is a bridge 300 m further down.
After 3 km the path turns towards the Kitteldalen Valley. Here, the incline increases for about 1 km until you arrive in the valley and the bridge over the stream. Here, there are some limited opportunities to find an acceptable tent site.
From here the path continues up towards Vierranvárri 1,700 m a s l. The terrain becomes high alpine and boulder-strewn with snowfields. Carefully follow the trail marks. A stone staircase has been built by Nepalese sherpas along part of the stretch.
On Vierranvárri, there are several top cairns built by visitors. Here you should consider whether to continue or turn back. From here the trail leads down 200 metres' altitude into Kaffedalen Valley.
From Kaffedalen there is a 500 m climb past an old cabin and up to the new safety cabin. The safety cabin is signposted with "feelers" made of steel pipes with arrows pointing towards the cabin. From the cabin it is about 100 metres' altitude to the summit. Safety cabin coordinates: SWEREF99 TM N 7535757 E 647470 H 2042
The trail ends at a summit cairn just below the peak snowdrift. If you want to go to the top snowdrift, you are on your own. There is a sheer drop several hundred meters on both sides.
There is more information in the brochure "Climbing Kebnekaise" below. It is an adventure and a challenge to climb Kebnekaise. But Kebnekaise is highly demanding to climb and accidents happen every year.
Length: 9 km each way, totally over 18 km
Duration: 10-14 hours (for the total trip, back and forth)
Trail markings: Red painted stones and stone cairns. The trail markings can be missing due to collapsing cairns, poor visibility or deep snow.
Activities And Facilities
Hiking
Surface

High alpine, steep and boulder-strewn, exposed to weather and wind. Snowfields with varying hardness can remain all summer along the trail. Summit snowdrift is narrow and icy.
Hills
Downloads
Contact
Email address
Länsstyrelsen Norrbotten
Organization logotype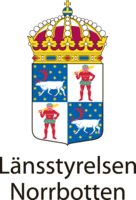 Questions & Answers
Ask a question to other Naturkartan users or to the responsible manager.