Photo: Michael Jönsson/Johnér

Darfáljávri and Norra Klippberget.
Photo: Håkan Hjort/Johnér

Photo: Marie Linnér/Johnér
Kebnekaise Mountain Station-Tarfala
Hiking
Description
From Kebnekaise mountain station, follow the trail eastwards towards Nikkaluokta. The first 2 km stretch to the suspension bridge across Darfáljohka stream is easy. After the bridge, the trail turns off northwards to follow the stream to Tarfala. It rises steeply and the birch forest is left behind. Further up the valley, the trail crosses the stream via two suspension bridges. After a steep climb, the marked trail continues on somewhat flatter terrain crossing a rocky area as far as the Tarfala cabin, which is beautifully situated on Lake Dárfaljávri, surrounded by mighty rock faces and glaciers. The hike includes some steep stretches and areas with loose rocks. Be alert and proceed carefully on these stretches.
Tent pitches have been cleared next to the cabin. There are also sites suitable for camping along Lake Darfáljávri.
The marked trail ends at Tarfala cabin. You can continue to hike northwards to the stopover cabin at Kaskasavagge and on to Visttasvággi. One recommended route is marked on the mountain map and starts from Tarfala scientific station just south of the cabin. Remember that you are in a high alpine environment and the weather can quickly change.
Duration: 3-4 hours
Activities And Facilities
Hiking
Surface

Moorland which at high altitude gives way to stony and boulder strewn terrain. The difference in altitude is about 500 metres.
Contact
Email address
Länsstyrelsen Norrbotten
Organization logotype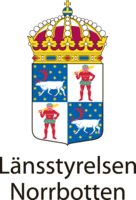 Questions & Answers
Ask a question to other Naturkartan users or to the responsible manager.