Sälkastugorna.
Photo: Håkan Hjort/Johnér

Det är inte alltid sol och blå himmel på sommarfjället.
Photo: Håkan Hjort/Johnér

Vissa år ligger snön länge längs leden.
Photo: Håkan Hjort/Johnér
Alesjaure-Sälka, The King's Trail and The Arctic Trail
Hiking
Description
The stretch begins with easy hiking in a broad and verdant valley with abundant birdlife. At the Alesjaure Cabins you pass Aliseatnu River via a suspension bridge and the trail then follows the beautifully green meandering river. The trail crosses flat mountain moors where hiking is pure pleasure. Three kilometres before Tjäktja Cabin you pass a reindeer herders' cabin near the trail. After that, the climb begins to the highest point on the King's Trail, the Tjäktja Pass. The environment becomes increasingly barren and stony the higher you climb. The small stream Šielmmánjira is passed by simple wading and then continues to the bridge leading across the stream Čeavččanjira at the Tjäktja Cabin.
The stage can if wished be divided. It is possible to stay in the Tjäktja Cabin, the highest located overnight cabin on the King's Trail. The cabin overlooks a barren environment 1000 m above sea level, 13 km from the Alesjaure Cabins and 12 km from the Sälka Cabins. There are also good tent pitches practically throughout the Álisvággi Valley, north of Tjäktja (Čeakča?). From the Tjäktja Cabin it is 4 km and an elevation difference of 150 m to the Tjäktja Pass. In the area around the pass the snow can remain for a long time. From Midsummer (around 21 June) it is usually possible to negotiate on foot, while some years it can be snowy and wet well into July. Around the pass it can be difficult to find water, so remember to fill up with water beforehand. At the pass there is resting cabin with a latrine, and a vast, breathtaking panorama in clear weather. Towards the south extends the wide and verdant valley Tjäktjavagge (Čeakčavággi). Immediately after the pass, the trail winds steeply down to the valley floor – a height difference of 200 m. The remaining hike to the Sälka Cabins varies between easy-to-walk brush moor, plankways and stony paths which are sometimes difficult to see. Keep a lookout for the red trail markings.
Duration: 7-9 hours
Activities And Facilities
Hiking
Surface

Highly varied. At the beginning of the hike the terrain is easy to walk and consists of brush moor, pastures and grass moor. There are also some plankways. Where the climb towards the Tjäktja Pass begins, the surface gradually becomes more and more stony. Around the pass, the snow can remain as late as July. After the pass, the surface consists of varied easy to walk ground, stony sections and plankways.
Contact
Email address
Länsstyrelsen Norrbotten
Organization logotype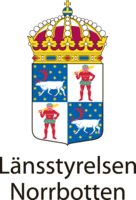 Questions & Answers
Ask a question to other Naturkartan users or to the responsible manager.