Kungsleden söderut från Alesjaurestugorna.
Photo: Michael Jönsson/Johnér

Bastun, Alesjaurestugorna.
Photo: Håkan Hjort/Johnér

Tältkåta vid Laevas samebys sommarviste, Alésjavri.
Photo: Håkan Hjort/Johnér
Abiskojaure-Alesjaure, The King's Trail and The Arctic Trail
Hiking
Description
From the Abiskojaure Cabins you hike via the bridge that crosses Kamajåkka back to the King's Trail, where you follow the signposts for Alesjaure. After a few kilometres you pass the national park boundary, and pitching a tent is again permitted. There are excellent places to pitch a tent just north of the suspension bridge across Šiellajohka. At the stream it is advisable to drink and fill up with water, since there can be a shortage of water for a long way to come. There is latrine near the bridge. Now you begin an extended climb of about 300 m called Kieronbacken slope. The tree line is passed and on a clear day you have a fine view. The path is occasionally stony, with willow brush alongside.
After rounding the mountain Gárdinvárri, the climb levels off and the trail continues across grassy and brush covered moors. Three kilometres after the reindeer fence between the Sámi communities of Gabna and Laevas there is a resting cabin just east of the trail, beside Lake Rádujávri. Here it can be suitable to take a break. At Lake Álisjávri, boat transport is offered during the high season (Roland Enoksson). This shortens your hike by 6 km. Otherwise, the trail continues alongside the lake as far as the Alesjaure Cabins. The path is occasionally stony and wet and passes through areas of willow and dwarf birch.
Duration: 6-8 hours
Activities And Facilities
Hiking
Surface

Varied. The climb at the beginning of the stage is on an occasionally stony path. After that, easier hiking on brush and grass moors. Alongside Lake Álisjávri, again varied surface, with occasional stony and wet stretches.
Communications
Contact
Email address
Länsstyrelsen Norrbotten
Organization logotype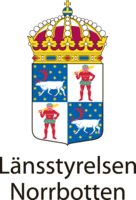 Questions & Answers
Ask a question to other Naturkartan users or to the responsible manager.