Katterjåkk-Unna Allakas
Hiking
Description
The hike should be planned over two days, and requires a tent. There are two stopover cabins for emergencies along the route, but no overnight cabins. A number of wades along the stretch can be difficult during high water.
Katterjåkk-Stuor Kärpel, 13 km, 4-5 hours
The trail passes through a tunnel under the railway and continues up a gravel road that follows the watercourse (on the left). At Katterjaure Cabin the watercourse is passed via a suspension bridge. The trail continues across meadows alongside Lake Gátterjávri. South of the lake, the summer trail and winter trail divide. The split is not clearly marked, so make sure you find the summer trail which turns towards the south-east up a fairly steep slope. The X-marked winter trail runs across the steep terrain above the watercourse where there is a risk of rockslides and similar. After the uphill slope, the summer trail makes its way down to the watercourse and runs on the Norwegian side for about 1 km. Before the stopover cabin Stuor Kärpel there is a ford across the watercourse from Lake Dossagemjávri. Wading can be difficult in connection with heavy rain. It is easiest to cross near where the watercourse joins the river in Dossagemvággi Valley. There are tent pitches on grassland on the south side of Lake Gátterjávri and near the water in Dossagemvággi Valley.
Stuor Kärpel–Unna Allakas, 20 km, 5-6 hours
The trail winds through Dossagemvággi, rising on hilly boulder-strewn ground formed of exposed rock. At Lake Válffojávrrit there is a ford which can be difficult to wade during high water. There are two other options marked on the map. The upper ford is usually easiest. After the stopover cabin Valfojåkka the trail leaves rocky ground and there is a steep descent to Lake Skáŋgalanjávri and surrounding meadows. There is a trail round the lake for those who want to visit the remains of Sjangeli Copper Mine. After the lake, a long, steep descent to the Kamajåkka Valley and the mountain cabin.
Activities And Facilities
Hiking
Surface

Varied surface. At the start, gravel road and easily hiked moorland; after Lake Gátterjávri, terrain covered in large boulders and exposed rock. From the stopover cabin Valfojåkka the surface consists of moorland.
Communications
Contact
Email address
Länsstyrelsen Norrbotten
Organization logotype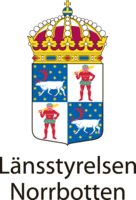 Questions & Answers
Ask a question to other Naturkartan users or to the responsible manager.