Abisko-Kårsavagge
Hiking
Description
The hike begins at the King's Trail portal near Abisko Turiststation. After the pedestrian tunnel under the E 10, the route leaves the King's Trail and continues over the bridge that crosses Abiskojåkka stream. Soon after crossing the bridge, it enters birch forest and follows Abiskojåkka upstream. After about a kilometre, it begins to climb the east slope of Mount Slåttatjåkka via some steep stages. At the beginning of Kårsavagge Valley the trail evens out. The trail leaves the birch forest and continues along brush covered moor. There is an excellent panorama over the Abisko Valley and surrounding mountains. You leave Abisko National Park and the trail to Kårsavagge Cabin continues westwards into the eroded valley. The trail crosses brush covered moors with small stands of willow shrubbery close to two lakes rich in fish, Vuolimus Gorsajávri and Gaskamus Gorsajávri. Kårsavagge Cabin stands on a small height near the turquoise waters of Lake Gaskamus Gorsajávri. Just before the cabin comes the only significant wade of the whole hike.
In some places along the trail it is easy to take the wrong route and follow the X-marked winter route instead of the summer route. You can end up in wetlands and difficult terrain. At the Kårsavagge Cabin, heading towards Abisko, and where the winter route turns off towards Abiskojåkka, it is particularly important to be alert. There are plenty of suitable tent pitches alongside the lakes.
Duration: 4-5 hours
Activities And Facilities
Hiking
Surface

Easily hiked surface, but occasionally wet with a number of plankways along the trail.
Communications
Contact
Email address
Länsstyrelsen Norrbotten
Organization logotype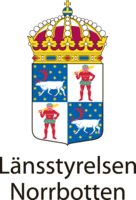 Questions & Answers
Ask a question to other Naturkartan users.