Björkliden andmLapporten (Čuonjávággi).
Photo: Stefan Isaksson/Johnér

Gohpasjohka
Björkliden-Gohpasvággi
Hiking
Description
The trail quickly brings you up onto the bare mountain. At the trail cross in Gohpasvággi valley, the hike can continue to Abisko across the mountain or to Låktatjåkko mountain station via Måndalen valley.
The hike starts at Hotell Fjället in Björkliden. Skirt the end of the hotel and follow the trail that runs straight across the ski slope. Then the trail passes over the watercourse Rákkasjohka via a bridge. The hike passes through birch forest and follows a gravel road past the Björkliden ski lift system. At the furthermost lift, Kittedal lift, the road turns into a path that follows Gohpasjohka watercourse upstream through willow brush. Here you reach the bare mountain. After 1 km the watercourse is crossed via a bridge and the trail then follows the east bank of the stream rising sharply to the trail crossing in Gohpasvággi valley. From here it is about 6 km to Abisko mountain station and 12 km to Låktatjåkka mountain station.
Duration: 2-2,5 hours
Activities And Facilities
Hiking
Surface

Easily-hiked surface, but a testing climb. The difference in elevation is about 260 metres and the trail is steep in places.
Communications
Contact
Email address
Länsstyrelsen Norrbotten
Organization logotype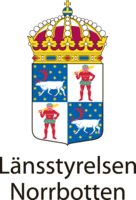 Questions & Answers
Ask a question to other Naturkartan users or to the responsible manager.