Photo: Peter Rutherhagen/Johnér

Vargpasset

Låkta Mountain Lodge

Måndalen
Låktatjåkka-Abisko
Hiking
Description
Låktatjåkka station-Låktatjåkko mountain station, 7 km
The trail to Sweden's highest mountain station (1,230 metres a s l) is easily hiked and follows an old tractor route. The trail starts at Låktatjåkka train stop, and is also signposted from the E10 highway. The hike starts in birch forest, which at increasing elevation gives way to tangled willow brush, moorland and a high mountain setting. About halfway to the mountain station, the trail crosses Loktajohka stream via a bridge. Soon after the bridge comes a stopover cabin. When you reach the narrow pass Vargpasset, about 1 km remains to the mountain station. If on a day tour, your return route can be either the same way or via the trail heading eastwards descending to Björkliden (9 km).
It is difficult to find tent pitches in the rocky areas along the upper part of the trail. At lower altitudes, camping sites can be found on the moorland.
Duration: 3,5-4 hours
Låktatjåkka mountain station-Abisko Turiststation, 19 km
The trail passes at high altitude through varied mountain settings. In places it is poorly marked and experience is demanded in navigation with a map and compass and in hiking difficult terrain. The marked trail initially passes across snowfields and rocky ground. The hike continues up towards a pass. It descends steeply towards Lattnjavággi valley, so be careful and keep on the trail. The highest point of the hike is reached on a plateau. Here the trail crosses snowfields, and finding your way can be difficult in poor visibility. The hike continues downwards towards the barren Måndalen valley. Close to a derelict goahte hut you wade across Gohpasjohka. Wading can be difficult at high water. The trail then divides, and the hike continues upwards to a pass. You end the tour by taking the chairlift, or following the trail down the slope of Njullá.
There are good tent pitches on the moors skirting Gohpasjohka stream.
Duration: 5-7 hours
Activities And Facilities
Hiking
Surface

Låktatjåkka station-Låktatjåkko mountain station: Easily hiked surface. The climbing however, involving more than 700 m altitude difference, makes the hike demanding.

Låktatjåkko mountain station-Abisko Turiststation: Varied surface comprising rocky terrain, snowfields and easily hiked moorland. Very hilly ground.
Communications
Contact
Email address
Länsstyrelsen Norrbotten
Organization logotype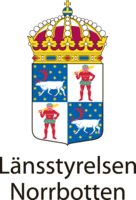 Questions & Answers
Ask a question to other Naturkartan users or to the responsible manager.