Kopparåsen-Vadvetjåkka National Park
Hiking
Description
The trail runs across the Kuokkel plateau and ends just before Vadvetjåkka National Park, the northernmost national park in Sweden. The trail is well marked and there are plankways across wet stretches. The hike starts about 10 m west of the turnoff towards Kopparåsen. A bridge across Paktajåkk is passed immediately and a few hundred metres later, the trail crosses an X-marked winter trail. You initially hike through birch forest rich in moss, but after just over a kilometre, the terrain is exposed rock and primary bedrock with many small lakes.
The trail passes through an area featuring remnants of mining operations. The copper deposit was claimed at the end of the 19th century and mining continued until 1905. The mine office remains. At the mine cabin, a trail leads off towards Björkstugan Cabin, while the trail towards Vadvetjåkka continues northwards. It is easy to take the wrong turning here. After the summit of Kuokkel, 636 metres a s l, you continued down over the slabs of primary bedrock towards the birch forest. At the end of the trail there is a suspension bridge leading into the national park.
Duration: 3-4 hours
Activities And Facilities
Hiking
Surface

Easily hiked trail across flat rocks and stretches of plankway.
Communications
Contact
Email address
Länsstyrelsen Norrbotten
Organization logotype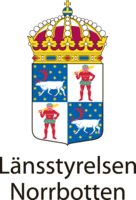 Questions & Answers
Ask a question to other Naturkartan users or to the responsible manager.