Pålnostugan.
Photo: Björn Lundquist
Tornehamn-the Norwegian border, The Arctic Trail
Hiking
Description
The hike begins just below the Navvy Graveyard in Tornehamn and follows the old supply route the Navvy Trail. At Paktajåkka the trail crosses the E10. After crossing the road, the trail is stony and slightly hilly, with short sharp rises and downhill slopes. Plankways make it easier to cross the boulder strewn terrain. After 2½ kilometres the trail crosses Njuoraeatnu River via a suspension bridge. From the bridge on, the landscape changes character. The trail runs through verdant birch forest with Alpine Blue Sow-thistle and tall ferns, also crossing boggy ground.
8 km later, you arrive at the Pålno Cabin, run by the Swedish Tourist Association. Here you can spend the night, but this simple cabin is unstaffed. The place has an interesting cultural history. Remnants from Talma Sámi Community's large settlement are still evident. There is also a fortified position from the Second World War. The nearby canyon in Sørdalen Valley in Norway offers another interesting excursion.
The trail continues past the cabin and on another 1½ kilometres to the Norwegian frontier and frontier cairn 272, Pålno cairn. On the Norwegian side, the trail continues upwards for another kilometre to the cabin Lappjordhytta, which is kept locked and is managed by The Norwegian Trekking Association (DNT).
Distances:
Tornehamn-Pålno Cabin, 12 km
E10 Paktajåkka-Pålno Cabin, 8 km
Tornehamn-Lappjordhytta, 15 km
E10 Paktajåkka-Lappjordhytta, 11 km
Duration: 4,5-6 hours
Activities And Facilities
Hiking
Surface

Rocky and boulder strewn surface until the bridge across Njuoraeatnu River. Then easier ground with occasional boggy patches. Plankways occur along the entire stretch.
Communications
Contact
Email address
Länsstyrelsen Norrbotten
Organization logotype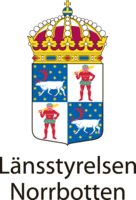 Questions & Answers
Ask a question to other Naturkartan users or to the responsible manager.