Svartliden-Whitberget
Nature reserve
Description
Svartliden-Whitberget is a virgin forest mountain between Gallejaur and Järvträsk in the very southernmost tip of Norrbotten County. The forests on the mountain are dominated by old-growth, pristine spruce and mixed coniferous forest. In large parts of the area, the traces of human activity are so few that the forest can be called virgin forest. The area is 1.4 square kilometres in size.
Activities And Facilities
Nature reserve
Facts

Kommun: Arvidsjaur

Bildat år: 2013

Storlek: 1,4 kvadratkilometer

Förvaltare: Länsstyrelsen

Skyddsform: Naturreservat
Communications

Svartliden-Whitberget lies about 12 km southwest of Glommersträsk. The most suitable way to the reserve is a logging road leading in westwards from road 365, 7 km south of Järvträsk. It leads as far as the western part of the reserve.
Directions

Svartliden-Whitberget ligger cirka 12 km sydväst om Glommersträsk. Lämpligaste tillfartsvägen till reservatet är en skogsbilväg går in västerut från väg 365 ca 7 km söder om Järvträsk. Man kommer då fram till reservatets västra del.
Regulations

Alla föreskrifter finns i reservatsbeslutet. Det är tillåtet att:

vandra
tälta
göra upp en mindre eld med löst liggande grenar och kvistar
plocka bär och matsvamp
köra snöskoter på väl snötäckt mark
fiska och jaga enligt gällande lagar

Det är inte tillåtet att skada växt- och djurliv. Tänk på allemansrätten och var rädd om naturen!
Contact
Email address
Länsstyrelsen Norrbotten
Organization logotype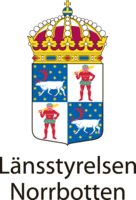 Questions & Answers
Ask a question to other Naturkartan users.