Rautas fjällurskog
Nature reserve
Description
The nature reserve Rautas old-growth mountain forest is a link in the chain of nature reserves protecting Norrbotten's unique montane forests. Here you find low fells with mountain birch forest and lower-lying areas of vast mires and pristine coniferous forests. The area is 677 square kilometres in size.
Activities And Facilities
Nature reserve
Facts

Kommun: Kiruna

Bildat år: 2000

Storlek: 677,1 kvadratkilometer

Förvaltare: Länsstyrelsen

Skyddsform: Naturreservat, Natura 2000

Övrigt: Genom reservatet går malmbanan.
Communications

The E10 passes through the reserve. There are trails from among other places Rautas stopover site and Rensjön.
Directions

Genom reservatet går E10. Leder finns från bland annat Rautas rastplats och Rensjön.
Regulations

Alla föreskrifter finns i reservatsbeslutet. Det är tillåtet att:

tälta

vandra

göra upp eld

plocka bär och matsvamp

köra snöskoter på väl snötäckt mark

fiska och jaga i enlighet med gällande lagar

Det är inte tillåtet att skada växt- och djurliv. Tänk på allemansrätten och var rädd om naturen!
Contact
Email address
Länsstyrelsen Norrbotten
Organization logotype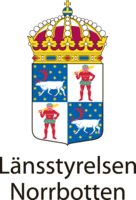 Questions & Answers
Ask a question to other Naturkartan users or to the responsible manager.