Photo: Jan Schützer/IBL Bildbyrå

Photo: Brutus Östling/IBL Bildbyrå

Photo: Elin-Anna Labba/Laponiatjuottjudus

Photo: Elin-Anna Labba/Laponiatjuottjudus
Muddus/Muttos Nationalpark
National Park
Description
Muddus/Muttos Nationalpark is the land of vast mires and deep old-growth forests. It is known for its waterfalls, deep ravines, low mountains and forests where the trees have seen many generations of people pass by.
In the Sámi language the word for large mire is "áhpe". It also translates into ocean. Here you will meet many of them, mires that feel like oceans. When they are frozen during the winter they are perfect migration routes for both people and animals. But Muttos is perhaps best known for its ancient forests. You will find both age-old trees and young pines due to logging and forest fires.
In the southern parts the whole area slopes down towards the Stuor Julevädno River, and ten deep ravines cut through the great forests. The ancient paths follow ridges, which at times are the only places which one can travel. Discreet traces such as hearths and trapping pits show us that many have lived and walked here before us.
Activities And Facilities
National Park
Communications

There are three entrances to Muddus/Muttos National park. The easiest way to get to Muddus is from the south. The Skájdde entrance is reached from road E45 at Ligga between Jokkmokk and Porjus. There is parking in Skájdde, and from there you can walk on boardwalks through the southern part of the park. You can also get to the park from the south-east through Sárggavárre (Sarkavare) and Urttimjávrre (Urtimjaur) located on the road to Miessávrre (Messaure).

Länstrafiken Norrbotten (bus and coach operator)
Gällivare Turistcenter website
Destination Jokkmokk website
Contact
Email address
Länsstyrelsen Norrbotten
Organization logotype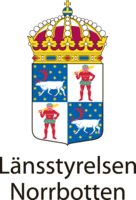 Questions & Answers
Ask a question to other Naturkartan users or to the responsible manager.