Långträskberget
Nature reserve
Description
In the impressive forest near the bottom of the south slope of Långträskberget there are many massive pines and spruce trees. Many of the trees are draped with Witch's Hair. In the eastern part there is a mire. Nearby there are primary willows with the beautifully green Lungwort growing on the trunks. The area is 0.6 square kilometres in size.
Activities And Facilities
Nature reserve
Facts

Kommun: Älvsbyn

Bildat år: 1997, reviderades 2013

Storlek: 0,6 kvadratkilometer

Förvaltare: Länsstyrelsen

Skyddsform: Naturreservat, Natura 2000
Communications

There are no roads which lead all the way to the reserve. About 12 kilometres north of Vidsel, on the road towards Bodträskfors, you can turn off eastwards. After about 1 kilometre there is a car park, from where it is about 1.6 kilometres' walk to the reserve.
Directions

Det finns ingen väg som leder ända fram till reservatet. Cirka 12 kilometer norr om Vidsel, på vägen mot Bodträskfors, kan man svänga av österut. Efter cirka 1 kilometer finns det en parkeringsplats, därifrån är det cirka 1,6 kilometer att gå till reservatet.
Regulations

Alla föreskrifter finns i reservatsbeslutet. Det är tillåtet att:

vandra
tälta
göra upp en mindre eld. Vid eldning använd endast löst liggande kvistar och grenar.
plocka bär och matsvamp
köra snöskoter på väl snötäckt mark
fiska och jaga i enlighet med gällande lagar

Det är bland annat inte tillåtet att skada växt- och djurliv eller att skräpa ner. Tänk på allemansrätten och var rädd om naturen!
Contact
Email address
Länsstyrelsen Norrbotten
Organization logotype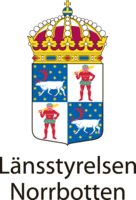 Questions & Answers
Ask a question to other Naturkartan users.