The great Alvar tour
Hiking
Trail details
Length

13.0 km

Difficulty

Blue - medium
Description
Karlevi - Frösslunda - Resmovägen
The trail follows an old road across the alvar. It is not prepared but runs over existing land, which means that the road is of a very simple standard. If you bring a bicycle, it may need to be guided in places. After snowmelt or heavy rain, some parts may be sandy. The route is marked with small limestone cairns and has been provided with cycle racks at walls and fences over which the bicycle can be guided. In Karlevi, by road 136, a blue and white cycling and hiking trail sign shows the way out to the alvar. There is a small grassy area with space for a few cars. From here the trail follows the old alvar road, the first part of which passes through Karlevi South Nature Reserve. Along the trail is the Präströr rock formation and shortly afterwards you reach the middle wall, a stone wall that stretches from the north to the south of the Great Alvar. From Källarbacken, just west of the village of Frösslunda, the trail runs largely on limestone chippings and at the large stone gateposts the trail splits and the rocky hiking trail continues south towards Örnkullen and Gösslunda. By bicycle, you continue southwest and soon reach Resmo-Stenåsavägen.
Karlevi - Frösslunda about 10 km
Frösslunda - Resmo road about 3 km
Resmovägen - Karlevi (road) approx. 11 km
The whole loop from Karlevi and back about 24 km
Toilets are available at Möckelmossen parking, Resmovägen.
Activities And Facilities
Biking

Hiking

Mountainbiking
Accessibility
Near parking
Facts

FRÖSSLUNDA BY Just west of the village is Källarbacken. In the first part of the 19th century, the island farmers began to grow potatoes. The rapid expansion of cultivation led to the need for cool, frost-free and dark storage facilities. Each farm in the village had its own storage cellar here.

**FRÖSSLUNDAMOSSEN ** Immediately south of the village of Frösslunda is Frösslundmossen, a shallow alvar lake with a water depth of just over one metre. The bog is a high quality bird habitat. Frösslundabäcken, which runs through the area and leads into the Baltic Sea, is considered one of Öland's most important watercourses. The stream is of great importance for the varied lake areas and is an important spawning ground for sea trout and pike.
Surface

Grus/gräs/kalksten

Emellanåt ojämnt underlag och tidvis kan vissa partier vara blöta
Hills

Leden sträcker sig över platt alvarmark
Vegetation

Stättor tar dig över de murar som passeras. Stättorna är anpassade för passage med cykel.
Contact
Address
0485-474 92
Email address
Matheus Tholin
Organization logotype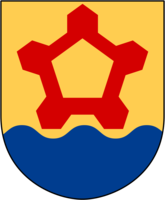 Questions & Answers
Ask a question to other Naturkartan users.