Signature trail - Mörbylångaleden Stage 3
Hiking
Trail details
Length

13.5 km

Difficulty

Green - simple
Description
Mörbylånga - Kastlösa
TRAIL DESCRIPTIONThe stage largely follows the fertile agricultural landscape and coastline of the Mörbylånga valley before heading out towards the alvar. You follow mostly paved road and shorter stretches of gravel road. At the coast there is Klovenhall's rest area with an outstanding view of Kalmarsund.
The stage starts at the Balken bathing area at Mörbylånga harbour, close to the parking and bus station. After a walk through Mörbylånga to Risinge village, the trail returns to the island's western coastline and Risingehamn. Here you can enjoy a beautiful view of the Kalmarsund and its lakes. Southwards along the coast you pass a cottage area and soon you arrive at the Klovenhall rest area, right next to the shore. The rest area has a toilet, shelter and barbecue facilities.
The trail then continues south along the beach. After about 500 metres, it turns east and continues through a wooded area towards Kastlösa. In Kastlösa you cross the county road 136 where there is a bus stop and you reach the stage destination on the other side of the road. Parking is available at the start and finish of the stage.
Parking is available in Mörbylånga and Kastlösa. Take a break at the rest area in Klovenhall and visit the large split stone.
The trail is marked with red arrows. Information board at the start and finish.
Activities And Facilities
Hiking
Accessibility
Near parking

Near Public Transport

Near toilet
Facts

Mörbylånga Karl XIV Johan confirmed in a royal letter in 1820 that Mörbylånga had been founded. Mörbylånga developed as a trading centre for the farmers of southern Öland. The town received a major boost when a new harbour was built at the end of the 19th century, when the sugar mill (now closed) was built in 1907 and when the railway was added in 1910.

Mörbylångadalen Mörbylångadalen is one of Sweden's most fertile farming areas. The valley, formerly a lake bed, has provided farmers with a natural environment for growing cereals and other crops such as potatoes, beans, onions and strawberries.
Communications
Contact
Address
0485-474 92
Email address
Matheus Tholin
Organization logotype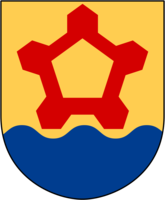 Questions & Answers
Ask a question to other Naturkartan users.