Photo: Länsstyrelsen Västerbotten

Photo: Emma Johansson

Photo: Länsstyrelsen Västerbotten

Photo: Länsstyrelsen Västerbotten

Mowing in Svansele during the 1950-60's.
Svansele dammängar
Nature reserve
Description
Every winter, the Petikå river is dammed and the meadows and Svansele are flooded. The sludge in the water fertilises the meadows. This was a common way of increasing the hay harvest in the past, but today the hay meadows in Svansele are unique.
Svansele's hay meadows along the Petikå river
The village of Svansele is located in the Petikå valley north-west of Skellefteå. Svansele was first settled in 1764, and the new residents began hay-making on the nearby waterside meadows and mires. This was essential in order to have winter fodder for the animals.
The first dam was built in 1825 downstream of the mire meadows. By damming the river's waters from time to time, the ground was fertilised with nutrient-rich sludge, which increased the hay harvest. As late as 1960, hay was still being harvested on the best sections. Parts of the meadows are still mowed.
A year on the flowing water meadow
During the winter, the floodgates are closed and the water rises. When spring comes, the water level is lowered. The water helps to fertilise and oxygenate the ground. Slender tufted-sedge, purple small-reed and horsetail are among the plants that are mowed in the flowing water meadow. Late summer is harvest time. The grass is mowed using a long, sharp scythe fitted with a collar, raked together and dried on racks. When the hay is dry, it is carried into the barns. These structures have been built up to two metres above the ground to ensure that the hay does not become wet during the winter.
Restoration of barns
Several of the barns have now been restored, and you can see both them and the meadows best from Kortudden or from the road between Svansele and Petikträsk on the western side. You can walk to Kortudden from the dam. Work on restoring the barns is continuing to ensure they remain in good condition.
Activities And Facilities
Nature reserve
Accessibility
Near parking

Near toilet

Stroller accessible
Directions

If you are coming from Bolidenhället, it is best to travel along the northern side of the Skellefteälven river, across Petiknäs. There you will see a beautiful farming landscape. Travel through Svansele village, heading towards Petikträsk. Just after exiting Svansele village, there is a sign to the north-east. Follow the service road to the Petikå river and the bridge by the dam and the rest area.
Contact
Email address
Länsstyrelsen Västerbotten
Organization logotype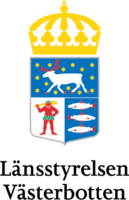 Questions & Answers
Ask a question to other Naturkartan users or to the responsible manager.