Photo: Länsstyrelsen Västerbotten

Photo: Länsstyrelsen Västerbotten
Starrberget
Nature reserve
Description
Pulses rise and shoes against the bare rocks. When the runners reach the top of the mountain 150 metres higher up, they are rewarded with views over Vännäsby and the large Vindelälven river between the gnarled trees. The mountain is frequently used by people taking part in orienteering, but can of course also be climbed at a calmer tempo.
Bare rocky ground
Almost 10,000 years ago, the waves crashed against the land here and eroded the ground. All the soil was transported away. All that was left was the hard, rocky ground at the top of the mountain. The ground is also soft in many places, covered with fluffy, greyish-white reindeer lichen. Gnarled pine trees spread out. Some of the trees have stood here through 400 bitter winters, so its no wonder they look the way they do. Up here at the peak, there is also an old fire guard's cabin, which was used in the past to monitor forest fires. Here you can stop and take a coffee break.
Herb-rich spruce forests with large and small inhabitants
On the south-western slopes of the mountain, the thick spruce forest is lush. The waves never reached here to wash away the soil. The ferns colour the ground green. Among the large spruces are small herbs such as wild strawberries, the frog orchid and the lily-of-the-valley. On the deciduous trees you will find the bright green tree lungwort. You may also come across our largest woodpecker, the black woodpecker, which specialises in eating ants from old, dead trees.
Activities And Facilities
Nature reserve
Accessibility
Near parking
Directions

Starrberget is situated approximately 3.5 km north-west of Vännäsby. Follow the E12 highway from Vännäsby and turn off at the first exit after the intersection between the E12 och Route 92. Follow this road for a couple of hundred metres. At this point, a path sets off to the top of the mountain.
Contact
Email address
Länsstyrelsen Västerbotten
Organization logotype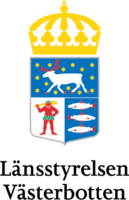 Questions & Answers
Ask a question to other Naturkartan users or to the responsible manager.