Photo: Andreas Garpebring

Photo: Lena Lundevaller

Photo: Andreas Garpebring
Långrumpskogen
Nature reserve
Description
Långrumpskogen is one of northern Sweden's natural forests that is most worthy of protection. The trees here are several hundred years old. Many of the lichens, fungi and insects found here only live in forests that have been left undisturbed for a very long time.
Pollen studies in the swamp woods
By studying pollen and fossil plants in wetland areas, it is possible to discover what has happened a long time ago. Analysis shows that before the 13th century, spruce, birch, sallow and alder dominated the fens in Långrumpskogen. Fires occurred regularly, at intervals of around 100 years. Researchers have been able to determine this by studying soot and carbon deposits in the wetlands and from the pollen of the rosebay willowherb, a species that tends to flower in large quantities on burnt sites and in areas that have been logged.
From the 16th century onwards, the small-scale forestry conducted in the area increased in scope. Fires and grazing cattle also affected the forest. When felling and keeping cattle in the forest were ended in the 18th century, the spruces were able to start to re-establish themselves. Today, the oldest spruces are 250-300 years old. On the extensive, low moraine ridges, you will mostly find large, ancient woodland pines mixed with dead and fallen trees. If you sit still for a while, a Siberian jay may well come to make your acquaintance.
Activities And Facilities
Nature reserve
Accessibility
Near parking
Facts

The reserve comprises thick pine forest on the moraine ridges, spruce swamp woods and mires. The reserve covers 122 hectares.
Directions

Turn off towards Gräsmyr from the E4 in Nordmaling. After around 9 km, turn left at the sign for the nature reserve. Follow the forest road for almost 6 km. There is a car park by the information board.
Contact
Email address
Länsstyrelsen Västerbotten
Organization logotype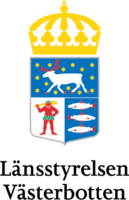 Questions & Answers
Ask a question to other Naturkartan users or to the responsible manager.