Berguddens fyr.

Photo: Johanna Reinoja Cunningham

Photo: Ludmilla Wieslander

Photo: Anna Hallmén

Photo: Länsstyrelsen Västerbotten

Photo: Ludmilla Wieslander
Holmöarna
Nature reserve
Description
It was the inland ice that gave Holmöarna its distinctive appearance and character. More than anything else, it is the rise of the land that is creating the huge variety found here. The islands have long been populated, just as they are today. Hunters and fisherman have left traces behind. Parts of the islands have been grazed and now have open landscapes. Holmöarna is one of the absolute pearls along this coastline, and there is a great deal to explore here!
Byviken and Holmön boat museum
The ferry to Holmöarna sails to Byviken harbour. You can also moor your own boat here. The boat museum at Byviken gives a good idea of life on Holmön and the nature and culture of the reserve. Holmön boat museum is open during the summer months.
Kammen
The shingle bank between Vintervägskroken and Bergudden is known as Kammen. Here you can follow hiking trails past numerous cairns and through forests of lichen-covered spruce. Once you reach Bergudden, you can take a look at Bergudden lighthouse or try to catch a grayling with your fishing rod. Bergudden youth hostel is open during the summer months.
Trappudden
As the land rises up out of the sea, the waves have created extensive shingle areas and shingle banks. The shingle banks at Trappudden are lined up one after another, resembling a staircase. From Byviken, you can follow the marked trail which takes you to Trappudden.
Stora Fjäderägg – a barren island visited by birds
Stora Fjäderägg is covered almost entirely with shingle. However, there are also heath, juniper bushes and very old stands of spruce here. A marked trail circles the island, taking you between interesting cultural relics and geological formations. There is a bird observatory on the island, where thousands of migratory birds are ringed each year.
Eastern hiking trail on Ängesön – flads and gloe lakes
When the land rises, bays and shallow lakes are cut off – flads and gloe lakes. Along the eastern side of Ängesön, there are large numbers of flads. If you swim in one of the numerous flads, you can encounter both perch and pike. They thrive in the fresh, warm water. As the land rises up out of the sea, new forest grows. There is plenty of land uplift forest and bare rocky ground on Ängesön.
Western hiking trail on Ängesön – a paradise of coastal meadows
There are many coastal meadows along the entire western side of Ängesön, shaped by waves and ice. The marked path takes you between the meadows, but also across bare rocky ground, heaths and small mires. Plants such as valerian, meadowsweet and red campion thrive in the beaches' thickets of grey alder and rowan.
By bike to southern Ängesön
Travelling by bike, you can get as far as Rössgrunden, at the southernmost tip of Ängesön. Here you can find deciduous woods that the farmers in the past used for hay-making and pasture.
Holmögadd
Holmögadd is an open landscape with plenty of heath and coastal meadows, but also a number of birch forests. At the southernmost point of Holmögadd is Holmögadd lighthouse. European whitefish have found good nursery grounds in the bays.
Travelling by water
More inaccessible parts of Holmöarna can be reached by water. Canoeing is fine on the eastern side, in the lee of the small islands. The water around Holmöarna is brackish, which means it is neither seawater nor freshwater. Below the surface there are a mixture of species that are just as happy in either seawater or freshwater. Here you might also see a black guillemot buzz past.
Activities And Facilities
Nature reserve
Accessibility
Near Public Transport

Near toilet

Stroller accessible
Facts

The reserve covers 24,200 hectares, of which 2,800 hectares are land. Holmöarna is one of Sweden's marine nature reserves. The nature reserve provisions apply to both land and water. Holmöarna is part of the Natura 2000, the EU's network of protected nature.
Directions

By car or bus to Norrfjärden. From there by tender boat to Byviken on Holmön island. You have to leave your car on the mainland.

You can visit both Holmön and Ängesön islands by bike. To reach the rest of the archipelago, you need a boat.
Contact
Email address
Länsstyrelsen Västerbotten
Organization logotype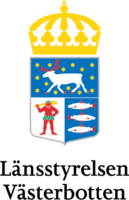 Questions & Answers
Ask a question to other Naturkartan users or to the responsible manager.