Photo: Länsstyrelsen Västerbotten

Photo: Länsstyrelsen Västerbotten

Photo: Länsstyrelsen Västerbotten

Photo: Andreas Garpebring
Hjukenåsarna
Nature reserve
Description
Hjukenåsarna nature reserve is a part of the extremely long Vindelälvsåsen, an esker that can be followed through the river valley all the way down to Umeå. The beautiful and easy Isälvsleden trail runs along the esker.
Here you can follow forest paths through a landscape that you can otherwise rarely experience. It takes you up onto three eskers, which rise up steeply and dramatically over the surrounding landscape: Åkeråsen, Huvudåsen and Kullen. You can enjoy wonderful views from Huvudåsen's barbecue area.
Kettle holes
Between Huvudåsen and Kullen eskers, you can see a number of large depressions known as kettle holes. These often occur alongside eskers. The depressions are created when blocks of ice left behind by the retreating inland ice subsequently melt. No forest grows at the bottom of these holes, perhaps because cold air collects there during the summer.
Pine forest characterised by fire
Some of the pines bear traces of fires. The forests used to burn much more frequently in the past, and the species that live here are adapted to this. The scaly tooth fungus is one such species. Many insects also utilise trees that have been damaged by fire. Forestry is conducted in a little over half the reserve, but the older forest in the eastern part of the reserve is protected and will be allowed to develop into a natural forest.
Activities And Facilities
Nature reserve
Accessibility
Near parking

Near Public Transport
Facts

The nature reserve measures 115 hectares. The purpose of the reserve is both to preserve the geological formations and the beautiful esker landscape, as well as to preserve the old forest in the eastern part of the reserve. The Isälvsleden trail runs through the reserve.
Directions

Follow Route 363 from Vindeln towards Hjuken for 15 km. Paths set out from the car park as you enter the village of Hjuken, as well as from the car park by Åkeråsen just north-west of the village.
Contact
Email address
Länsstyrelsen Västerbotten
Organization logotype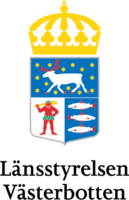 Questions & Answers
Ask a question to other Naturkartan users or to the responsible manager.