The view from Björnberget.
Photo: Länsstyrelsen Västerbotten

Svärmorskojan.
Photo: Länsstyrelsen Västerbotten

Entrance Angsjö.
Photo: Länsstyrelsen Västerbotten

Photo: Länsstyrelsen Västerbotten

Rest area at entrance Angsjö.
Photo: Länsstyrelsen Västerbotten
Björnlandets nationalpark
National Park
Description
Björnlandet is one of our national parks – an exciting landscape offering wonderful natural experiences. Gnarled old pines and enormous boulders capped with white lichen give the area character. You may get to see capercaillies and Siberian jays. And you may catch the scent of anise from the rare Haploporus odorus.
Linnaeus's forests
The nature in Björnlandet is now protected as a national park. The forest in Björnlandet is similar to that which Linnaeus saw during his visit to Lapland more than 280 years ago. Pine forest is most common in the Park. The oldest pines are more than 500 years old, although most of the trees sprouted after the major fire in 1831. You can find traces of previous forest fires almost everywhere in the Park. You can often see charred trees along the Park's paths, and on some of the pine trunks, old fire damage is being overgrown with new wood. The oldest fire that has been dated occurred in 1165. The forest has burned on 23 occasions since the Viking Age.
Rock paintings, forest Sami and settlers
The forest in Björnlandet may appear untouched by human hands, but this is not the case. Here, like just about everywhere else in the forest, people have utilised nature to provide for themselves. Dams by Angsjöbäcken and Björkbäcken brooks provide a reminder of both mire hay-making and log driving. The Park's most spectacular cultural relics are the rock paintings in a cave near Häggsjö and traces of Sami bark peeling on individual trees.
Activities And Facilities
National Park
Accessibility
Near parking

Near toilet

Stroller accessible

Wheelchair accessible
Directions

The National Park is best accessed from the road between Fredrika and Åsele. Take the southbound exit, around 10 km after Fredrika. Then follow the signs for 24 km to the Park. The entrance at Häggsjön can be accessed from the public road between Åsele and Tegelträsk.
Contact
Email address
Länsstyrelsen Västerbotten
Organization logotype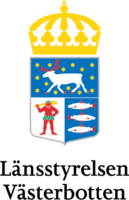 Questions & Answers
Ask a question to other Naturkartan users or to the responsible manager.