Cykel genom Borg vik
Photo: Roger Borgelid

Paus vid Kungskvarnen i Borgvik
Photo: Roger Borgelid

Klarälven

Båtbussar

Bomstabaden

Högt & lågt

Värmlands Museum

Sandgrundsudden

Brigadmuseet i Karlstad

Alsters Herrgård

Sandgrund, Lars Lerin
Unionsleden stage 7, Borgvik - Karlstad
Biking
Description
Karlstad – the goal of your journey
The city where the sun always shines by the large lake Vänern. Where the innkeeper Eva-Lisa Holtz spread joy and hospitality already in the 18th century and was therefore called "Sola", "Sunny". A town just the right size, where people are friendly and helpful and guests feel at ease and at home. Welcome!
Experience lake Vänern up close
The Segerstad peninsula is located 25 kilometres west of Karlstad and is a popular recreational and nature area. There are wheelchair accessible trails, wheelchair accessible hiking trails and easily accessible shelters and toilets.
About 7 kilometres west of Karlstad, you can head down to Skutberget, a beautiful open-air area right next to lake Vänern. It offers recreation and activities for all ages and tastes. There are bathing spots and playgrounds, nature trails and exercise tracks, a mountain bike course and a 4-star disc golf course with eighteen holes. Also nearby is Högt & Lågt, an exciting high-altitude course with different levels of difficulty for the whole family.
The area also offers First Camp Skutberget, which rents out cabins, kayaks, SUPs and pedal cars and has an 18-hole adventure golf course. Nearby is also Karlstad SweCamp Bomstadbaden with a shallow sandy beach on lake Vänern. There you can play beach volleyball and adventure golf and rent kayaks and pedal boats. You can also rent their relaxation area with hot tub and sauna.
Close to everything
It's easy to say that something is close to everything. But that's actually the truth in Karlstad. Here you can walk to 11 hotels within 14 minutes of the train station. Then, when you're ready to get around Karlstad, you'll find that most things are just a short walk away. All the while enjoying how beautiful the place is.
There's water everywhere in this city
The Klarälven delta, where the river flows into lake Vänern, means that there is water almost everywhere and you can even swim in the middle of the city. If you feel like sitting back and just enjoying yourself, you can take the popular boat buses that complement the city bus service from June to August. Take a trip on the Klarälven in the centre of Karlstad for the price of a normal bus ticket or go on a longer trip out to the Vänern archipelago.
Art that leaves a strong impression
Artist and writer Lars Lerin is considered one of the foremost watercolourists in the Nordic countries. The former Sandgrund dance hall houses the art gallery with his works. A stone's throw away on Sandgrundsudden is also Värmlands Museum, one of Sweden's most visited county museums, where international exhibitions meet the cultural history of Värmland.
From opera to bandwagons
Experience opera and musicals of the highest artistic quality at Wermland Opera, one of Sweden's six opera houses, where everything from The Ring of the Nibelung to Shrek has been performed. At Alster manor, which is Gustaf Fröding's heritage estate, you can learn about the life of the poet and visit a Värmland arts and crafts shop. Close to Klarälven is the Brigadmuseum, an interactive museum offering a journey through time from 1945 to 1991, where you can feel, listen, read and see how the Cold War affected Sweden, both in terms of the military and politics.
The dissolution of the union between Norway and Sweden
In preparation for the final negotiations on the dissolution of the union, delegates from Norway and Sweden met in the Masonic Lodge in Karlstad, starting in August 1905. Afterwards, the Swedish Parliament recognised Norway's independence on 26 October 1905. The "Peace Monument" statue, erected to commemorate the dissolution of the union and unveiled in 1955, stands on the town square Stora Torget. The Masonic Lodge, where the negotiations were held, is also located in the town square.
Discover more in the area
Activities And Facilities
Biking
Contact
Email address
Kontakta Unionsleden
Organization logotype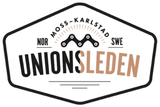 Questions & Answers
Ask a question to other Naturkartan users.