Pulkabacken i gropen

Pulkabacken

Tävling i pulkabacken

Sunnerstaåsen

Sunnerstaåsen

Motorikbanan
Sunnerstaåsen
Recreation area
Description
Nära Fyrisåns utlopp i Mälaren, endast 9 km från centrala Uppsala, ligger Sunnerstaåsens friluftsområde. Det är ett litet kompakt område som rymmer mycket: vandringsstigar, elljusspår (3,4 km), mountainbikespår (3,5 km), skog, slalombacke med två liftar och fyra nedfarter, pulkabacke och eldstäder. Vintertid spåras skidspår längs elljusspåret.
Centralpunkt och en bra startplats är Sunnerstastugan som från och med NU är öppen alla dagar i veckan, vardagar kl 11-18, lördagar kl 10-16 och söndagar kl 12-16. Här kan du hyra friluftsutrustning, såsom, skidor, skridskor, cyklar m.m. samt fika i kaféet som bjuder på enklare maträtter, bullar och annat gott. För mer information se https://aktivtuteliv.nu/uppsala-2/
Sunnerstastugan ligger vid en stor grop, ett gammalt grustag. Sunnerstaåsen är en del av den mäktiga Uppsalaåsen som sträcker sig genom hela Uppland. Det är vid gropen de fina pulkabackarna finns och nere i botten hittar du ett vindskydd med två eldstäder, vedförråd och rastbord. Det finns flera eldstäder i området. Om Sunnerstastugan är öppen kan du fråga efter ved där, annars får du ta med egen till de andra eldstäderna i området.
Nära sunnerstastugan ligger också Mulleriket med äventyrsstationer där stora som små kan leka och upptäcka spännande saker i naturen. Skogsmullestigen, Skogsmulles koja och Motorikbanan är anpassade för personer med funktionsnedsättning.
Service: Parkeringsplats, informationsskyltar, stigar, elljusspår (3,4 km)- skidspår på vintern, natur- och kulturstig (3 km), Mtb-bana (3,5 km), motorikbana/naturlekplats, skidbacke med liftar, eldstäder, rastplatser, torrtoaletter, kanotuthyrning, vindskydd, servering (delar av året).
Se en kort film om Sunnerstaåsen
Utökad information om service och tillgänglighet i Sunnerstaåsens friluftsområde, i+
Activities And Facilities
Recreation area
Accessibility
Near parking

Near Public Transport

Near toilet

Stroller accessible
Facts

Förvaltare: Uppsala kommun
Communications

Flera busslinjer stannar vid hållplats Sunnerstabacken alldeles vid entrén till friluftsområdet. Se www.ul.se för bussnummer och tidtabell.
Directions

Sunnerstaåsens friluftsområde ligger i Sunnersta, i södra utkanten av Uppsala.

Med bil: Parkeringen vid Sunnerstaåsen ligger längs Dag Hammarskjölds väg, ett par hundra meter norr om Flottsundsbron. Kommer du från Uppsalahållet ligger parkeringen på vänster sida.

Med cykel: Från Stadsträdgården inne i centrala Uppsala går cykelväg längs Fyrisåns västra sida ända ut till Sunnersta, 9 km.
Contact
Email address
Upplandsstiftelsen
Organization logotype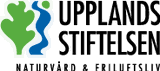 Questions & Answers
Ask a question to other Naturkartan users.