Gångvägen mot Kungsängen

Spång mot fågelgömslet vid Kungsängen

Fågelgömslet vid Kungsängen

Kungsängen
Linnéstig Danmarksvandringen, 16 km
Hiking
Activities And Facilities
Hiking
Accessibility
Near parking

Near Public Transport
Surface

Mycket gångväg och under andra halvan landsväg. Längs Sävjaån går du på smal och lite knölig stig.
Parking

Parkering finns nära starten, snett mittemot Strandbodgatan, och vid Linnés Hammarby där vandringen slutar.

Det finns också parkering vid Lilla Djurgården. För att komma dit kör du ut ur Uppsala, söder ut, via Kungsgatan. I rondellen i kör du mot mot Sävja och fortsätter till väg 255 där du tar till höger. Strax efter ån vid Kuggebro går en liten grusväg upp till höger som leder till en liten parkering i skogskanten.

Parkering finns också vid Linnés Sävja och vid Danmarks kyrka.
Communications

Busshållplatser finns på flera platser längs sträckan:

Hållplats Kuggebro ligger längs väg 255 i norra utkanten av Sävja där stigen går över Sävjaån.

I Sävja finns t ex hållplats Nämndemansvägen som ligger vid Ica där leden går över väg 255 mot Linnés Sävja.

Till hållplats Danmarks kyrka kommer du med regionbussen.

Mer information om bussförbindelser finns på Upplands lokaltrafiks hemsida, www.ul.se
Contact
Email address
Upplandsstiftelsen
Organization logotype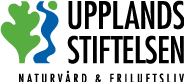 Questions & Answers
Ask a question to other Naturkartan users or to the responsible manager.