Torbjörn Arvidson

Torbjörn Arvidson

Torbjörn Arvidson

3
Oset och Rynningeviken naturreservat
Nature reserve
Description
Oset och Rynningeviken har en fantastisk och omväxlande natur. Här finns ett rikt fågel- och växtliv med rastplatser, grillplatser och naturliga utflyktspunkter, cykel- och promenadvägar samt mötesplatsen Naturens hus. På bara några minuter tar du dig dit på cykel från centrala Örebro. Oset är ett av landets rikaste fågelområden.
Reservatet ingår både i Natura 2000 som är EU:s nätverk för värdefull natur, och även i den globala naturvårdskonventionen Ramsar som finns till för att skydda värdefulla våtmarker.
Activities And Facilities
Nature reserve
Accessibility
Near parking

Near Public Transport

Stroller accessible

Wheelchair accessible
Directions

Huvudentrén till reservatet ligger vid Naturens hus i Örebro, följ skyltar med texten sjukhus. I rondellen vid Universitetssjukhuset (USÖ), följ skylt mot Naturens hus. Stadsbussar går till hållplatsen Naturens hus. För att ta dig till parkeringen vid Venastugan, följ Hjortstorpsvägen och sväng vid skylt mot Naturreservat.
Contact
Address
Kontakta oss om du har frågor om Örebros friluftsliv. Tel: 019-211000
Email address
Servicecenter
Organization logotype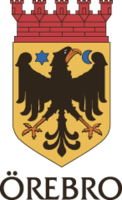 Questions & Answers
Ask a question to other Naturkartan users.