Hemfjärden runt
Biking
Description
Svårighetsgrad: Grön
Längd: 38 km
Höjdmeter: 90 m
Hemfjärden runt är cykelledernas cykelled här i Örebro. På rundan finns många olika sevärdheter så som naturreservat, historiska platser och vyer ut över Hjälmaren. Halvvägs på rundan finns ett sommarcafé vid Norra Ässundet, där kan du fika eller ta en lunch och bada vid bryggbadet intill. Kontakta caféet för aktuella öppettider.
Vid Norra Ässundet måste man åka över vattnet med cykelfärjan Åbäket, det är en frivillig kostnad för turen på 30 kr, enbart betalning med Swish. Färjan går från den 26 maj till och med den 21 augusti förutom midsommarafton och midsommardagen, därefter enbart helger fram till och med den 11:e september.
Färjan avgår var 20:e minut alla dagar i veckan mellan 11.00-18.00, förutom turen kl 13.20 som utgår samtliga dagar på grund av lunch.
Vid hård vind och dåligt väder går inte färjan.
Activities And Facilities
Biking
Contact
Address
Kontakta oss om du har frågor om Örebros friluftsliv. Tel: 019-211000
Email address
Servicecenter
Organization logotype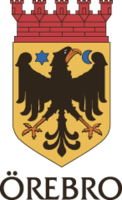 Questions & Answers
Ask a question to other Naturkartan users.