Photo: Tor Tuorda
Darreluoppal-Såmmarlappa-Tarrekaise, the Padjelanta Trail
Hiking
Description
Darreluoppal-Såmmarlappa, 15 km
The entire stretch runs through the Tarradalen Valley. The trail starts across waterlogged ground with plankways near Lake Darreluoppal. After 1 kilometre you leave Sarek National Park. After a short way the trails enters Padjelanta National Park. The hike continues downwards on a scree slope over mountain moor. After 5 km you reach verdant birch forest which you continue through as far as the Såmmarlappa cabins. Early in summer, the floral abundance is stunning. The terrain is slightly hilly in places. Here and there, you arrive at wet marshes with plankways. After 11 km, you leave Padjelanta National Park. Shortly after that, the trail crosses Slihtajåhkå stream via a suspension bridge. The last stretch to the cabins passes through birch forest and across marshes with plankways.
There are good tent pitches at the streams the trail passes.
Duration: 5–7 hours
Såmmarlappa-Tarrekaise, 13 km
The trail continues through the Tarradalen Valley. It is a short, even stretch. But since the trail is rocky, the stretch is quite strenuous. You immediately pass a number of small bridges, and then continue through sparse birch forest rich in vascular plants. Tarradalen Valley is narrow here. Måskásjgájsse mountain (1,724 m asl) rises majestically from the narrow valley. The trail leads on through sparser forest, across open waterlogged ground and stretches of open moor. At Bádurgårsså ravine, the forest again becomes verdant and rich in vascular plants. The species growing here include bird cherry, rowan and sallow in addition to mountain birch. The stream from the ravine forms a large alluvial fan. An alluvial fan is a deposit of gravel, sand and mud which has been flushed down from higher areas. Esker formations on the trail make the hike arduous. After the alluvial fan, a trail leads off towards Vaimok and the Tarraälv River shack. The valley opens up, and the spread of Lake Tarraure comes into view. The tourist cabins are near the lake.
Duration: 4–6 hours
The northern part of the trail as far as the bridge across Slihtajåhkå is managed by the Laponia organisation Laponiatjuottjudus, and the southern part by the County Administrative Board.
Activities And Facilities
Hiking
Surface

Darreluoppal-Såmmarlappa: Mostly easily-hiked surface across mountain moor and waterlogged ground with plankways.

Såmmarlappa-Tarrekaise: Rocky ground and long plankway stretches.
Contact
Email address
Länsstyrelsen Norrbotten
Organization logotype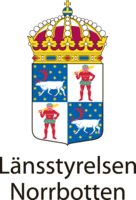 Questions & Answers
Ask a question to other Naturkartan users or to the responsible manager.