Photo: Håkan Hjort

Photo: Henrik Micael Kuhmunen/Laponiatjuottjudus

Photo: Håkan Hjort
Aktse-Pårte, The King's Trail
Hiking
Description
The stretch is long, demanding and varied, and you are walking in Sarek National Park practically the whole time. The stage includes a boat transport, and hiking both on bare mountain and in virgin coniferous forest. From the Aktse Cabin, a 1 km plankway leads to the boat jetty on Lake Lájtavrre. To get across the mountain lake by motor boat transport you can pay the cabin warden, who serves this stretch to a timetable. There are also rowing boats to borrow, and a rowing route marked with white signs. Remember that if you use the boats there must always be a boat on each side of the crossing. This can mean rowing the stretch three times. Remember that the lake is exposed and it can get very windy here. The rowing route and rowing boats are the responsibility of the County Administrative Board.
From the boat jetty and Laitaure stopover cabin, the flat and easily hiked trail passes through birch and spruce forest until the bridge across Suobbatjåhkkå stream. After the bridge, the trail leads steeply up to bare mountain, where the panoramas are vast. After half the hike you come to the stopover cabin Jågge, where it can be suitable to rest if the weather is poor. Not far after the stopover cabin the trail becomes stony, and after the pass between Favnoaivve and Huomnásj also very steep down towards the Pårte Cabin. The last stretch you hike through untouched virgin coniferous forest with abundant wildlife.
There are good tent pitches along this stretch, even on the bare mountain.
Most of the trail is maintained by Laponia.
Duration: 8-10 hours
Activities And Facilities
Hiking
Facts
Surface

A 1-km plankway at the beginning of the hike, followed by an easily-hiked trail. A steep climb up to bare mountain and then the trail is an easy hike for a few kilometres after the stopover cabin Jågge. The trail then becomes rocky, and after the high ground of Huomnásj again steep, down to the Pårte Cabin.
Communications
Contact
Email address
Länsstyrelsen Norrbotten
Organization logotype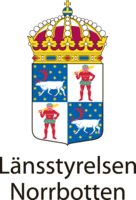 Questions & Answers
Ask a question to other Naturkartan users or to the responsible manager.